Welcome
Welcome to the home of Cubby Haus Brewing. We are a small craft brewery and bar located in Mount Pleasant, Ballarat, a short distance from Sovereign Hill.
We create small batch classic   style beers as well as innovative contemporary interpretations.
About
The Cubby Haus Brewing Bar opened in September 2016. A family run operation, we converted an industrial shed into a Brewery and Bar. The location offers us a beautiful view of the tree lined Mount Pleasant reserve. From a 500 litre brew house and 3 fermenters we produce 6 core beers and an ever expanding list of seasonals. Many of our beers are based on traditional styles from around the world leaving plenty of scope for single batch experimentals. The hand built brew house is capable of multi-stepped brews and traditional decoctions giving us the flexibility to produce beers true to style. All of our beers are unfiltered, naturally conditioned and chemical free.
The Name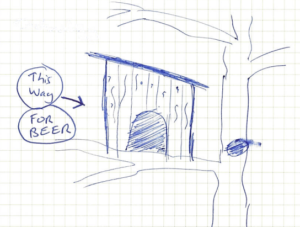 Why are we called Cubby Haus Brewing? Easy. The brewery is a build it yourself deal. No consultants, no packaged components. Lots of research and experimentation. What is put together is a self designed and constructed prototype brewery in the manner of kids building their own place; a cubby house. Built from found and re-purposed objects, designed to be able to reproduce the best Bavarian beers and more, it was only fitting to call our brewery a "Cubby Haus". The brewery is able to perform decoction brews replicating traditional Bavarian brewing techniques as well as standard single step infusion brews.
Beginnings
Travelling and living in England got me started on craft beer. Rural English culture and exposure to Real Ale started me on a journey to explore the real world of beer. Back in Australia and only being able to find a weak, commoditised and overly fizzy beer, I turned to home brew. I spent many years creating beers I liked without much understanding of style. The rise of local Australian craft beer re-introduced me to a diverse range of styles and interpretations. Home brewing suddenly got serious with a lot to learn. Reading, visiting breweries and long days brewing. It was time to go all grain, so I built a 50 litre brew rig. The garage was now a small brewery. With nowhere to expand, it was decided to move out of the garage into an actual brewery. Three years planning and finally we have moved in to our new brewery in Mount Pleasant.